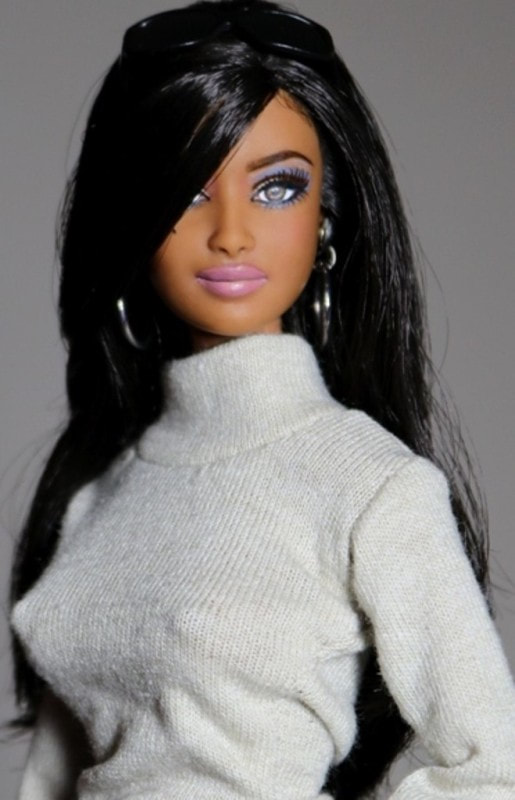 Marineraluna represents the curvy woman!
Living the Dream






While growing up, it was my mother who was the artist in the family! She was the creative one! My mother painted, sketched, sculpted, sewed, made her own molds, hammered, and would even fix all of the broken appliances in the house! It was not uncommon to come home from school and see the life sized creatures and mannequins standing in the living room that she would make for Halloween. She was amazing!

My mother was also an avid doll collector. Doll collecting was something we shared. For years, we would buy dolls and I would give them all makeovers. My mother always told me that I had a talent when it came to transforming an ordinary doll into a beautiful work of art. She used to say, "You should really consider doing this for a living, or designing your own doll line. I will even help you." Deep inside, I wanted to, but I could not think of a way to make it possible, until now.

After finishing college and collecting a couple of degrees, I worked for many years. I met some great people and I gained a wealth of knowledge about what it is like to follow a common path. Despite my so called successes- my work and education were not fulfilling! My true dream still kindled inside me. And, my mother's words still rang out in my mind.

Well, my mother, and friend passed away unexpectedly a couple of years ago, and this made me realize just how important it is to do what you love! And, even though my mom is not here physically- she still remains to be my art teacher, and motivation! And, our doll dreams still live on because I currently express my doll visions through my OOAK repaints as I work to breathe life into my own miniature prototypes, which I look forward to sharing with the world someday!

As long as I can remember, I have always loved dolls! And, they have always been a part of my life. For many years, I have enjoyed that magical place where they reside in my heart. As a child, before I went to sleep- I would always hope to have my favorite dream, the one where I was surrounded by hundreds of dolls! I guess you could say- I am finally living what used to be, only a dream!

I created Doll Anatomy because it is my passion! I wanted a place where I could share the enchanted world of miniature people with other adults- who still play with dolls. These exquisite re-created dolls are for you!


Doll Anatomy is a fun place for all! I know you will absolutely love your adult like dolls! Doll Anatomy is where you can live the dream while you are awake, and without any inhibitions. This is only the beginning!


I am finally living my real life!


The beauty you see in the photo is my favorite doll of 16+ years! Her name is Sailor AKA Marineraluna!

Come Play With Us!
---